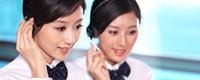 Name: Angelrain Xu
Mobile: 13867435937
E-mail: info@visioncaremedical.net
WeChat: angelrain512034
whatsapp: 0086-13867435937



Product name : Digital Handheld Fundus Camera HFC-20

Product No. : HFC-20
Details:
Ophthalmic Handheld Fundus Camera
Digital Non Mydriatic, Portable and movable
Model: HFC-20
CE & FDA Marked
Ophthalmic Non Mydriatic Handheld Fundus Camera is designed for fundus imaging, diagnosis and
fundus diseases screening, with sharp images. It is quite suitable for bed diagnosis, outside diagnosis,
education and treatment in rural areas.


Highlights:
Real time image display, with total two magnifications;
Non Mydriatic and high definition images;
USB and WIFI connection for data transfer;
Up to 8,000 sharp images can be stored;
Low weight, only weights 0.45kgs, movable and portable;
Easy for single hand operation.
Storage Modes:
Store in SD Memory card;
Transfer to computer via USB Connection;
Transfer to computer or iCloud by WIFI.

Technical Specifications:
FOV 45°
Minimum Pupil 3mm
Refractive Compensation -20D~+20D
Light Source White LED/IR
Image Resolution 1920*1080
Focus Mode Manual
Screen 3.5°
Power ≤6VA
Storage Micro SD Card
Power Supply 3.7V Lithum Battery
Interface Mini USB/WIFI