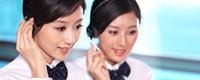 Name: Angelrain Xu
Mobile: 13867435937
E-mail: info@visioncaremedical.net
WeChat: angelrain512034
whatsapp: 0086-13867435937



Product name : Microscope CCD HD-800

Product No. : HD-800
Details:
Ophthalmic Surgical Microscope CCD

Model: HD-800

Surgical Microscope CCD is a part of Microscope digital solution (Beamsplitter, Video Adapter & CCD), which
makes surgical Microscope realize surgery recording for study and education purposes.
HD-800 CCD is adopted single CMOS sensitive chip, and used for anterior segment surgery recording ONLY.

Technical Specification:
Sensor: 1/3" Sony CMOS
Effective Pixel: 1920*1080
Resolution: 850TV Lines
Video Output: HDMI
OSD Manual: AGC, white balance, S/N ratio, BLC


We provide different video systems and BIOM system (BIOM Lens & Imaging Inverter)
for surgery. Our video
system and BIOM system have been successfully adapting in ZEISS,
LEICA, MOLLER, TOPCON, INAMI etc.
Surgical Microscopes.