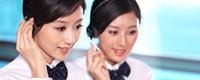 Name: Angelrain Xu
Mobile: 13867435937
E-mail: info@visioncaremedical.net
WeChat: angelrain512034
whatsapp: 0086-13867435937



Product name : Auto Phoropter by Bluetooth Data Transfer

Product No. : CV-7600
Details:
Optical Equipment Auto Phoropter
Data transmission by bluetooth
Model: CV-7600
CE & US FDA Marked
Features:
1. Small and compact design;
2. Fast and smooth Lens switch;
3. Left and right independent PD adjustment to provide more accurate measurement;
4. Built-in white LED lamp offers clear and safe measurement environment;
5. Automatic convergence and PD adjustment are operated, during near point test;
6. Multi-coated optical lenses are adopted;
7. Bluetooth wireless data transmission.
Technical Specifications:
Sphere -19.00D~+16.75D, 0.25D/0.50D/1.00D/3.00D steps
Cylinder -6.00D~+6.00D, 0.25D step
Axis Angle 0°~180°(1°/5° steps)
Pupil Distance Distant Range: 52~80mm, 0.5/1mm steps
Close Range: 48~76mm, 0.5/1mm steps
Rotary Prism 0~20 (0.1/0.5/1 steps)
Cross Cylinder Lens ±0.25D
Retinoscope +1.50D (67cm), +2.00D (50cm)
PH, Binoculus (1.0mm)
RMV, RMH
RL (Right Eye), GL (Left Eye)
Auxiliary Lens Polaroid (Right Eye: 135°/45°, Left Eye: 45°/135°)
Prism ( Right: 3BU, 6BU) (Left: 3BD, 10BI)
Cross Cylinder Lens: ±0.50D, Axis=90°
PD Lens
Head Size 381*286*111mm, 3.8kgs
Table Size 243*171*7mm, 0.5kgs
Power Supply AC110V~220V, 60Hz/50Hz, 90W